Rachel Chung is a We Can! Change Maker, volunteer and spokesperson. Rachel speaks publicly about her experience to show support to victims and challenge the social attitudes that silence them. by Rachel Chung, Change Maker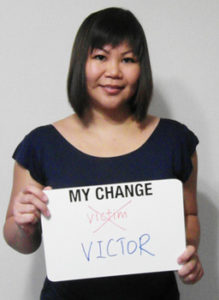 At first it was verbal: insults, accusations, mockery. After our first child was born, he sniped at me about my weight gain. When I said he was insensitive, he retaliated with a vicious barrage of Hokkien vulgarities.
This continued whenever I "stepped out of line". I downplayed it at first. But when his verbal admonishments were not keeping me "in rein", he started shoving me. It got worse – slapping, punching – especially when I earned more than he did. The abuse eventually got so bad that I ended up in the hospital.
Turning to Family
My in-laws were very traditional. They saw the husband as head of the household. My ex mother-in-law advised me to "not answer back". His siblings also chose to ignore the "embarrassment". At a family dinner they ignored my bruises,and instead talked about their business and recent holiday to London.
My family encouraged me to divorce him, but they did not offer to let my children and I move in with them. Without that assurance, I felt so insecure, like I was left all alone to fend for my children and myself.
"But Think of the Children!"
Many pressures bind women to violent relationships. Her partner might manipulate her into thinking she is inadequate and worthless; without support from family, friends and society, it is difficult to find the confidence to leave.
Financially, leaving can have serious consequences on the victim and her family, especially if her partner controls her finances or jeopardises her employment. Moreover, the stigma of being a divorcee remains strong in our society.
I faced some of this. Some church members felt I should stay "as long as the kids are not touched". This made me feel ignored and dehumanised. It wasn't in the children's best interests either. What about the trauma it caused them to witness violence at home, or the risk to their safety? The breaking point came one night when my daughter, awakened by the noise of our fighting, came to my defence. He shoved her away. I fought back, and later filed for divorce.
Leaving: New Battles and New Beginnings
The damage to my morale and self-worth from the emotional abuse I had endured was no less harmful than the physical injuries. Violence isn't always visible. It isn't always black and blue. We need to recognise and reject all forms of violence around us.
Some women feel ashamed. I've been through it. "Was I abused because I wasn't good enough as a woman or a wife?" Gender biases in families and society perpetuate these beliefs, and we internalise them. We feel like we somehow, "asked for it."
But it is not our fault. We did not bring this upon ourselves, and I refuse to feel guilty or embarrassed. I want to get this message to abused women out there: it is not your fault and you should not be ashamed in any way.
 More resources on seeking help can be found here.