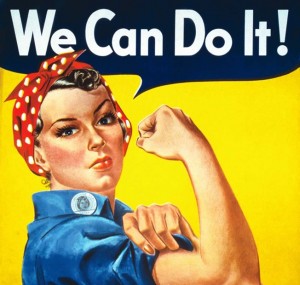 Written by Nicole Seah, Change Maker, as part of our "What does being a man mean to you?" blog series. Submit your responses to [email protected]!
Boys can't <insert misconception here> like girls can.
Did you know that gender-neutral clothing was popular up to the mid 1980s?
If that is the case, why are there so many associations between colour and gender and sexuality? When did the colour blue become associated with manliness and when did the color pink begin to represent femininity? Children and parents alike are bombarded with this pervasive and unsettling idea that a colour can represent a gender or someone's identity.
So what if boys want to wear pink dresses? I say let them! Let the children of our generation learn how to express themselves. If your little boy chooses to wear a dress and play with a Barbie doll and you are horrified by this idea, try to think logically about what these icons symbolise. Does this child understand the connotations of wearing pink and the public disapproval of donning a skirt as a boy, or is it just your own opinion that has been built into you from years of indoctrination?
Rather than concerning ourselves with silly speculations about what colour means, society should be more concerned about bringing children up to be a mature, compassionate adults. Does it really matter what they wear if they have kind souls and big hearts? If society has stooped so low to think that children must conform to gender norms, something is clearly wrong. Why does a boy wanting to wear a pink shirt bother some parents more than the violence associated with the guns he plays with? Isn't it funny that in the eyes of so many, blue and pink aren't simply blue and pink? They're guns and ponies; trucks and frills.
Men don't cry and other fascinating characteristics
An archetypal masculine man does not cry! He does not shed a drop of emotion onto his gleaming torso of pure muscle. Brooding, he punches a wall, because violence in the face of emotional distress is more 'manly' than crying.
Hopefully that sarcasm wasn't wasted on you. I've never heard of a sillier idea than that men cannot be emotional. Being sad and being overtly happy are all 'danger zones' on the masculinity scale. Fathers teach their sons to mask their feelings in times of extreme grief. Seeking relief from one's emotions is a definite no-no when you are a man, even if it is only natural to do so.
More recently, a few psychological studies such as the 'androgyny study' were done to show that feminine and masculine characteristics are not polar opposites, rather, characteristics that should work together. One who has an equal amount of both, are considered psychologically androgynous. For example, a male doctor is both compassionate and acts like a leader in their field, a leading woman engineer is both analytical and could also be soft spoken! A fact that I read was that androgynous people tend to be happier and more successful.
However, this androgyny study also shows us how gender is stereotyped and ridiculed in our society, and shows us that characteristics shouldn't be gendered; rather they should be valued for what they are. Being gentle is a great characteristic for both men and women: so why is it that they are stereotyped as being 'womanly'? An androgynous person has roughly an equal amount of characteristics associated with each gender, and this tends to be a good balance!
So what does 'being a man' mean to me? Well, nothing much really. Man or woman, there is no 'battle of the sexes'. There should be no preconception of what being a man should mean at all!