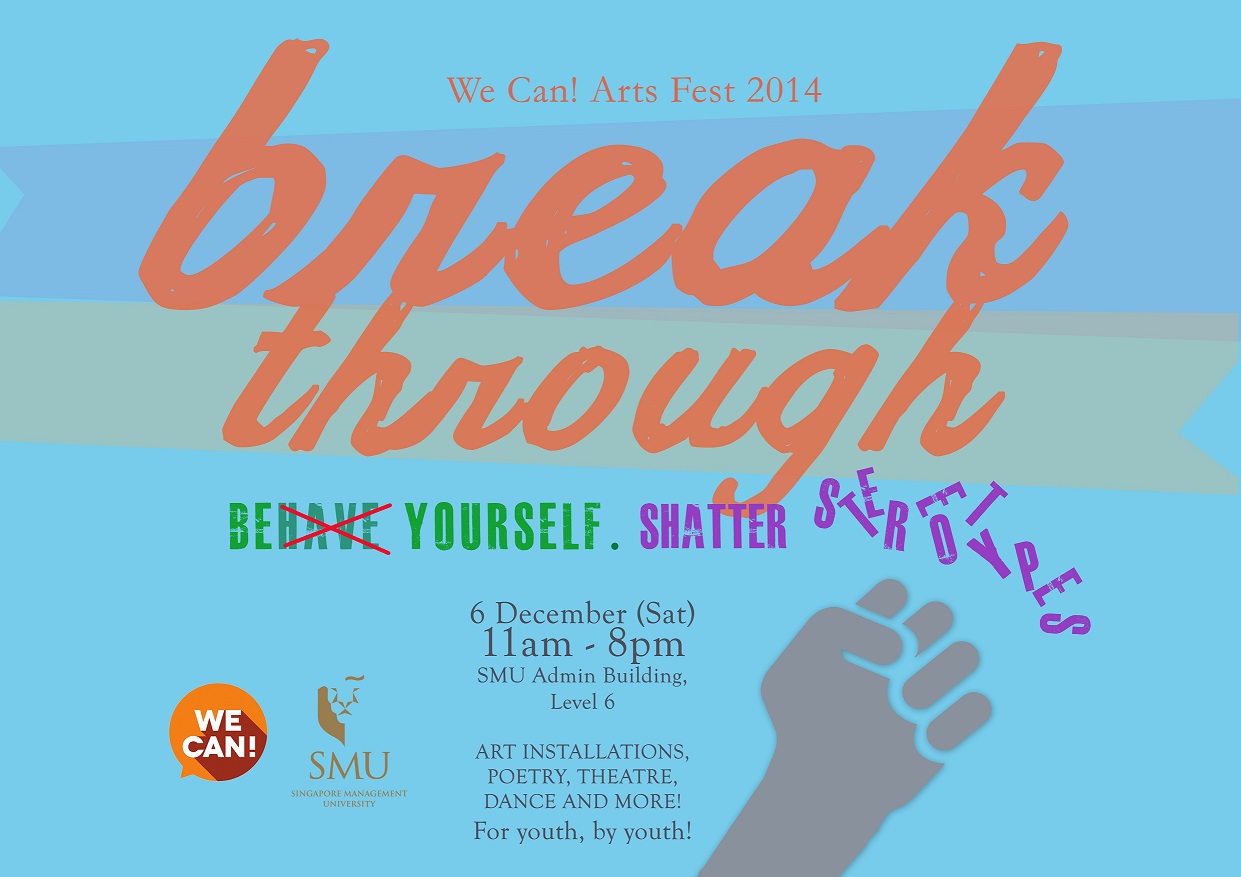 On 6 December, join We Can! for live music performances, film, dance, theatre, panel discussions, a station where you can design T-shirts, a photobooth with cool props and more… and it's all FREE!
Organised by youth, for youth, Breakthrough is an innovative arts fest celebrating diversity and the freedom to be you..
Programme highlights include:
– Electrifying performances by 'Shh…Diam!', a queer feminist band bringing their happy hardcore music from Kuala Lumpur.
– 'Boys Will Be Boys', an interactive theatre performance exploring how social pressures to be "masculine" contribute to violence against women.
– Body/Language, a spoken word performance examining body image with pieces that had rave reviews at the Singapore Writers Festival.
– '"Rescuing" Princesses & Pontianaks', a workshop on re-writing popular tales in a gender balanced way.
– Contemporary dance performances by student groups innovative exploring body image, gender stereotypes and gender-based violence
Speak up, take a stand and break the box with us. This event is created by youth, for youth!
Date: 6 December 2014 (Saturday)
Venue: SMU Admin Building, Level 6 (University Lounge)
Time: 11am – 8pm
We need your help in making the Arts Fest run smoothly! We are looking for stage managers, AV help, emcees, runners and general volunteers to ensure the festival goes as planned. If you can volunteer for the Arts Fest, drop Nabilah an email at [email protected]e.com.See you there!
About We Can! Youth
We Can! Youth is the We Can! campaign's special focus in 2014. This year, we hope to get more youth involved in taking a stand against gender-based violence in their everyday lives. We are reaching out to young Change Makers, learning from their personal experiences and starting conversations on gender stereotypes, sexual consent, rights and healthy dating relationships. Youth Change Makers are young people committed to making positive social change in their communities. Through their actions, they can help make schools, cyberspace and social events safe spaces for young people regardless of their gender or sexual expression.
About We Can! Arts Fest 2013
Missed last year's We Can! Arts Fest? Last year, we brought together artists, activists and Change Makers to meet others who are using their voices to speak up against the less visible forms of violence. We had art installations, music performances, spoken word, film screenings, theatre and more! Read more about We Can! Arts Fest 2013: The Silence of Violence here and take a look through our photo gallery here!