Anonymous post, as part of our "What does being a man mean to you?" blog series. Submit your responses to [email protected]!

Being a man has been a complicated experience for me. I am a genderqueer person in a body that very much looks like a man's. But I am not, and will never be a man, and it's not for a lack of people trying to teach me how to be one.
The last time I fought with my father, I was leaning against the kitchen countertop glaring angrily at him while tears rolled down my face. He was standing in the doorway, clearly frustrated and angry with what was going on. "Are you going to cry like this in front of your army commander?" he bellowed.
The last time I attended a school camp, my sweat-stained face was inches from the dusty ground as the unsympathetic National Cadet Corps sergeant, just a year older than I was, revelled in his ability to wield power and control over human bodies. He roared at our cowed forms to suck it up and take it like the men we were, because we were late coming out of the crowded showers.
The last time I spoke to a boy who was once a dear friend, he told me that he could not live with the fact that I liked boys even after trying all this time. He recommended that I seek treatment for my mental disorder, and that he never wanted to see me again. The last time I accidentally let slip about a boy I was crushing on, I received a text message calling me a faggot and threatening to beat me up.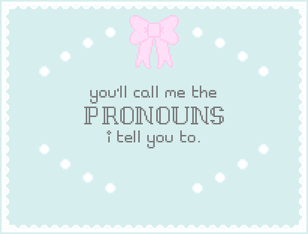 I have not yet figured out how to look less like a man. On certain days when I'm feeling particularly dysphoric, every assumption that I'm a man makes my insides squirm. On other days the same assumptions simply bounce off my belly, leaving nary a mark. Most of the time, I find myself drawing a box labelled "Other" under the Gender section on some form. When neither box fits, you can only make your own. In spite of everything, these few months after my coming out as a genderqueer person has been so much more liberating than the years I spent being a man.
The inconvenient truth for many of the men that have come and gone from my life is that really, nobody has to take anything "like a man". Toxic masculinity – the kind that exemplifies violence, aggression, power and control over the other – makes me very afraid, and if you aren't already scared about the lengths that men can go to in asserting their dominance and privilege, you really should be.