By Tricia Ferdinandt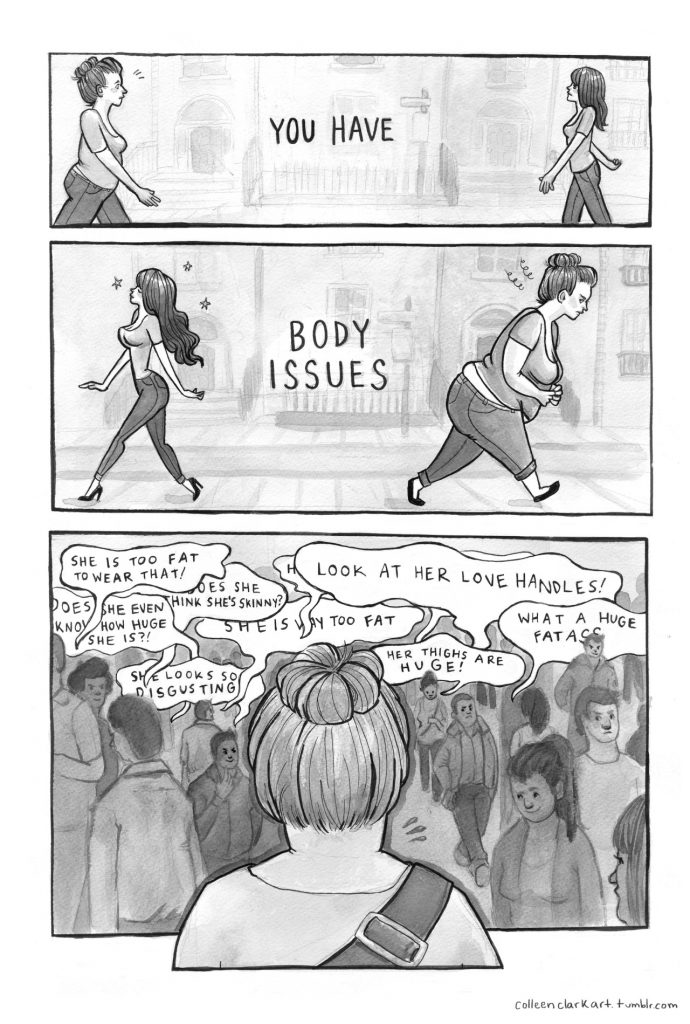 I remember when I was younger and in primary school, we started to learn about puberty in Health Education and how girls and boys alike would see changes in their bodies as they grow up. I did not really think much of it and instead, I welcomed these changes as they made me feel like a woman and not a little girl anymore. I started getting these changes when I was 9; I remember that not many of my classmates caught on as early as I did. I wore a singlet under my clothes, but I didn't look into it much. I still went about my gymnastic and ballet classes all the same.
Over time, as I transitioned into secondary school, I was not as lean and skinny as I used to be. I weighed steadily at 55 kg pretty much throughout secondary school, which was acceptable for my height. I never really gained or lost weight. We ran a lot during P.E. classes to train for our 2.4 km run. Other than that, I did not really look after my diet or health. That would go on to be something that I regret.
Members of my family would joke about my weight and observed if I had lost or gained weight at practically every family gathering. I did not look to them for their approval nor did I understand why they were policing the way my body looked as if it were of any concern to them since it was my body. I would understand their genuine health concerns for me as they advised me to take less sugary drinks and eat less junk food. Other remarks like how my hips would get more round in the future once I had kids of my own just fell upon my deaf ears. Honestly, I loved my hips. I had a small waist and I loved the way my rounder hips would complement my figure. Of course, that's a different story now that I gained almost 30 kg in the last 4 years.
I have been struggling with depression and anxiety over the course of my adolescent years. I have difficulty coping with my emotions, leading me to sometimes harm myself and others. There have been many low points in my life, some of which I brought upon myself. Others habits include horrible eating habits, a disruptive sleeping pattern, and a non-existent exercise routine. Looking after myself was not important to me at all. As the number on the scales kept increasing, I chose to avoid it and run away, like I always do with my problems.
The comments from family, friends, and even partners kept coming. They were mostly hurtful words stitched together with good intentions. I would think a lot about what people said after, about the "burger going down to my butt" or oil creating more "moon craters" on my face. Not only did I struggle with my weight, I hated my acne-scarred skin. The acne on my cheeks, forehead, and even my back could be connected with a pen to create constellations. I was extremely sensitive about my body, weight, and the way I looked. Something as simple as someone staring at me too long could send me into a frenzy. I remember my boyfriend staring at my protruding stomach when I asked if we could have our lunch at my favourite American fast-food chain. Although he had no ill intentions and did not mean it in the way I interpreted, it scarred me.
I wished with all my heart that I could just be like the girls of Instagram, with the killer figure and perfect skin. Beautiful, stunning, but not realistic. While praying hard to look like someone else, I learnt the hard lesson of acceptance and self-love. We are all beautiful and unique in our own special ways. Ironically, it might seem like the grass is greener on the other side, but I can assure you that everyone has their own insecurities. People who pick on others' flaws and faults and take joy in bringing someone pain are battling demons of their own. That is why instead of getting upset with a classmate of mine who made a rude comment about my weight or appearance, I prayed for him. He can make 1000 comments to bring me down, but I will not give him the permission to hurt me. These people in your life are nothing to you and one should never give them the power to make you upset in any way, shape, or form.
My goal in this journey is not about the numbers or seeking a thumbs up from  others. If I do this to seek approval from others, then I will never be happy. I am doing this for myself, to be the best version of myself. It doesn't matter if you don't have flat abs or a bubble butt. Girls on the covers on magazines have their bodies photoshopped and retouched. Love your love handles, muffin tops, and thunder thighs. Treat your body right and it will treat you right too.
Author's Bio: Tricia Ferdinandt is your resident brown baby. Her hobbies include adding memes to her album collection and binge-watching makeup tutorials. When she's not stuDYING in school, she's probably at Starbucks trying to convince the barista she has 60 stars to redeem a free drink.
Featured image by Colleen Clark.