This piece was written for the Body/Language creative writing workshop, co-organised by We Can! Singapore and Etiquette SG.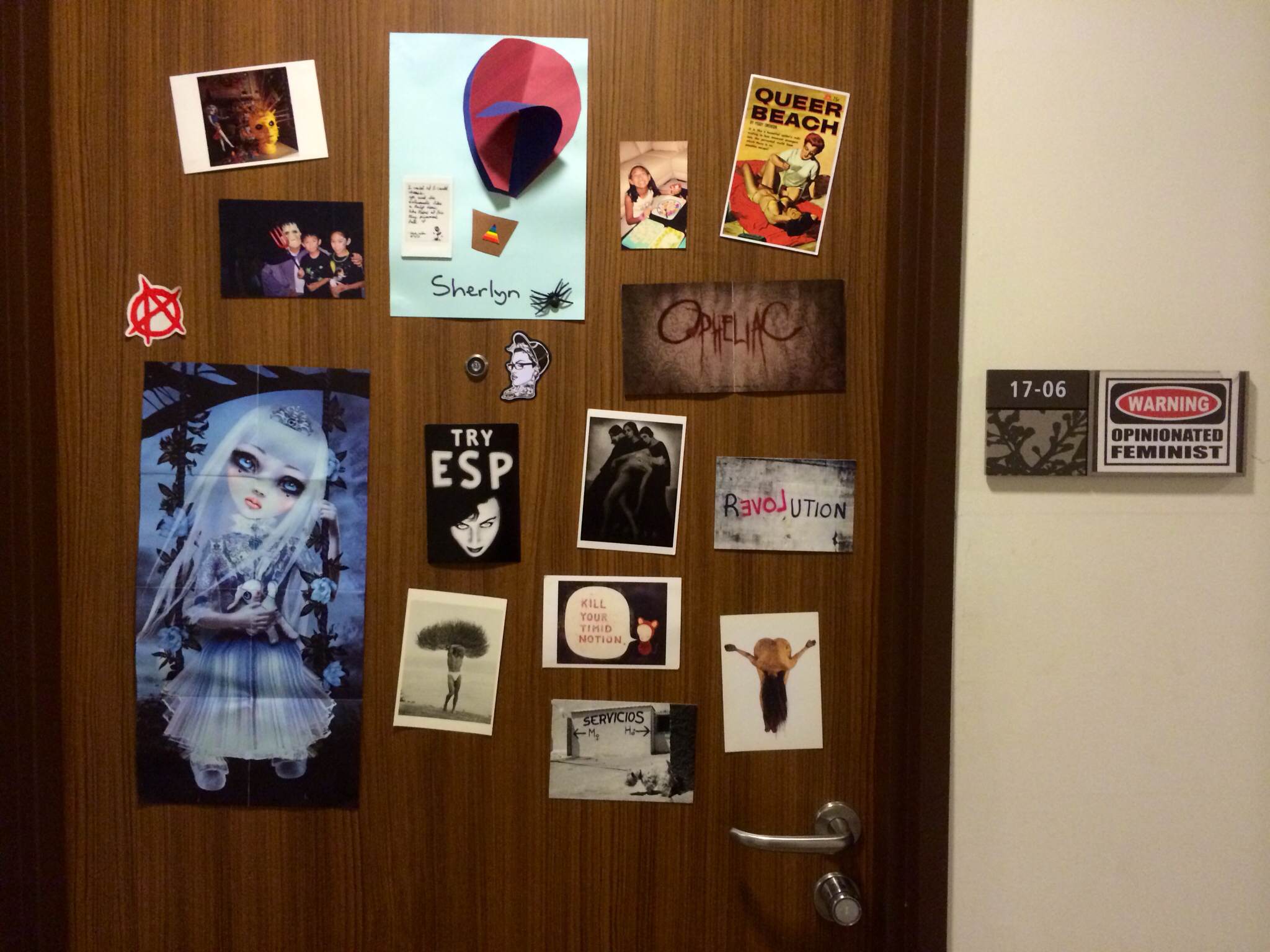 There used to be a postcard on the inside of the door of my university dorm room. In black and white block letters against an eye-catching red background, it read: 'WARNING: OPINIONATED FEMINIST', and was pasted above the peephole of my door. A few months ago, a schoolmate who was in my room asked, "Shouldn't this sign be outside? What's the point if you put a warning sign and no one except you can see it?"
I didn't know how to explain it to him. But I said, "I'm afraid I'd scare away the boys!"
He plopped down on my bed and laughed. "I thought I'm the one who's into boys, not you." He looked at me knowingly. "Are you even interested in boys?"
Maybe he thought I was only interested in girls but I don't think he knew how much I used to hate them, especially the long-haired variety. Girls were a foreign species, too emotional, docile, and weak. So I observed the ways boys acted and tried my best to emulate them. 'Top baby boy names in 2012', I googled, then decided on a male name for myself – Sherman, which translates to 'wool-shearer'. I became one of the boys when I cut my hair short in Junior College. Not pixie short, but boy short. It took me quite a while to master the art of styling short hair, but when I did, I thought I looked f**king fabulous. I shunned dresses and skirts, wore shirts and pants instead. I had never really wanted to burn bras, but I once contemplated setting my school skirt on fire in the middle of the school garden upon graduation.
Halfway through my last year of school, I struck off number 24 on my bucket list: wearing boy pants to school instead of the school skirt. That day, my friends said something I knew was a long time coming. They told me I was a lesbian long before I identified as anything other than straight. Others didn't say it but I could see it in their eyes when they walked past me in school corridors.
78 judgmental looks and 21 unwarranted remarks later, I settled down at a small table outside the school library to summarise 'Oranges Are Not the Only Fruit' for a literature class. Chapter 6, the church finds out about Jeanette's and Melanie's relationship of "unnatural passions". They are pulled up and accused of falling under satan's spell.
I looked up from my book. Jacob, an ex-classmate, was walking towards me with a hotdog in his hand. He took a seat at a table directly opposite mine. We were less than 2 metres apart, a little too close for comfort. I tried to ignore him and focus on my book but from the corner of my eyes, I could see that he was looking at me. A bite in his hotdog, he stared straight at me. A few minutes, then another bite, his eyes still fixated on me. I put down my book. It was late in the evening and there didn't seem to be any other students around. I started throwing my study materials into my bag, all the while keeping my head down. A couple of his classmates joined him at the table with their own snacks and I quickly left the area with my things messily stuffed into a bag that was not properly zipped, feeling his gaze trailing my back, burning a hole through those dreaded pants of mine.
My phone beeped. A text message from a friend who was at his table. "Jacob is asking us what the f**k is wrong with you, says you're a lesbian who will grow up f**king girls."
I ran straight to the handicap toilet and locked myself in. For half an hour, I sat on the toilet bowl seat then paced around in the tiny cubicle, too afraid to go out. At some point, I un-zipped my bag, took out a pair of FBT shorts and changed into it. But I felt like a coward for giving in so I changed back into pants. I unlocked the door and was about to open it when I heard voices from outside. School kids laughing and shouting to one another. I locked the door again. I couldn't do it; I couldn't walk out of the toilet like that. So I changed into the FBT shorts, waited until the coast was clear before I made a beeline out of school. The stares wore me down, and Jacob was my tipping point.
I fantasised about going up to Jacob on the last day of school in a complete male school uniform (a button-down shirt, pants and a tie) and telling him to his face to take his queerphobia somewhere else because who I am and who I end up sharing my bed with really is none of his f**king business. I mapped out the precise location he would be sitting at in the canteen and the company he would be surrounded by. I even scripted my lines. But of course, that never happened. Instead, I did the most instinctive thing a young, would-be queer could possibly do. I wrote an angry blog post about gender and sexuality on my WordPress website.
For the rest of the year, the 'click' of the handicap toilet door as it locked would become a familiar sound. I had few friends, sometimes I had no friends. And gradually, the handicap toilet became my best friend.
I bumped into Jacob recently at my school lobby when he came to visit his girlfriend who studies here. Our eyes met for a second then I quickly averted my gaze, ran back to my room and locked my door, taking deep breaths to calm myself. I looked at the postcard on the inside of my door. "WARNING: OPINIONATED FEMINIST", it read.
I didn't want to proclaim to the world that I'm a feminist because I have never felt particularly welcome nor safe in my own university. Once, somebody anonymously posted a letter publicly addressed to me on my university's Facebook group:
"Dear Sherlyn
Everything seemingly misogynistic, rape-positive, sex-negative, anti-feminist, slut-shaming, anti-woman is NOT ALL THE S**T YOU THINK IT TO BE. PLEASE STOP YOUR PSEUDO-FEMINIST AGENDA. Get a sense of humour. If you don't, the only 'change' you'll create is your number of friends… closer and closer to zero."
That was not an isolated incident.
In the wake of all these, I create a performance art piece cum public statement. In the school library, I print out all the anonymous attacks I've received on A4 sheets of paper. Each sheet of paper features one anonymous comment. No two sheets contain the same comment. I print out 16 of those. Then I print out another sheet of paper with all the comments and cut them up into smaller strips. I head to the nearest utility shop and purchase blu-tack, scotch tape and small table mirrors. During lunch break, I walk to the middle of the dining hall and arrange the printed sheets in a circle, sticking them to the floor with blu-tack. Behind each sheet of paper, I set up a mirror facing outwards. I stick the small strips of comments onto my back with scotch tape. Finally, I step into the middle of my circle and sit down. Some students ignore me entirely, others come up close to read the words. I invite them to take a stand by sitting with me.
In my head, no one joins me.
In reality, none of that ever happened and it probably never will. Instead, I did the most instinctive thing a young, angry queer feminist could possibly do. I left my university's Facebook group and wrote a post on an anti-violence against women blog.
There used to be a postcard on the inside of the door of my university dorm room. It's a sign that reads: "WARNING: OPINIONATED FEMINIST". At some point this semester, I moved the sign to the outside of my door. When I look through the peephole, I sometimes catch students sneaking a stare at my door decorations when they walk past my room. Could any of them be the ones behind the personal attacks? In a school where 'feminist' is a dirtier word than 'f**k', where being queer makes you a walking target, what do you choose: hiding behind locked doors, or social suicide? I am tired of playing this game, and if there's one useful thing that 14 years of schooling has taught me, it's that you can't win either way.
About The Author: Sherlyn turned 20 this Halloween. She likes insects and arachnids, and once had a pet snail named Fluffy that was unintentionally murdered by a schoolmate. She's a second year student at Yale-NUS with plans to specialise in creative writing and work as an editor/writer at some place that won't cen-sor her subversive "pseudo-feminist agenda". She's been quoted to "only ever wear social justice tees or gothic clothing".